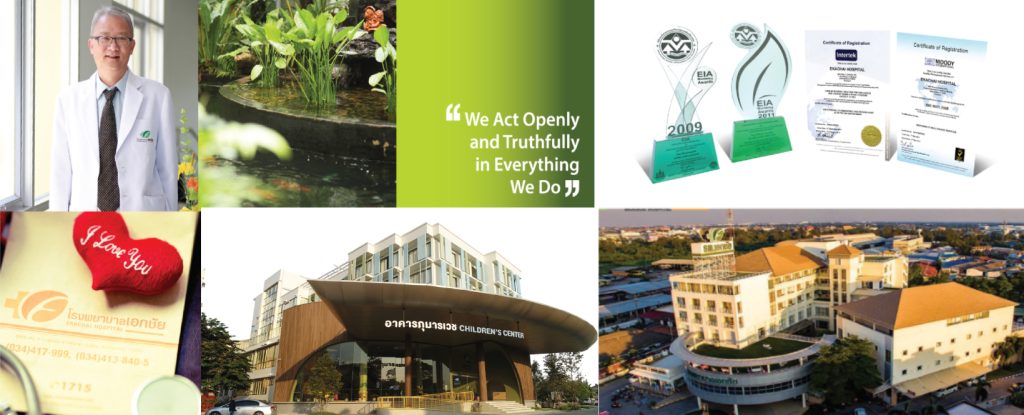 Ekachai Hospital was established in October 2004 and ready for operation on 29 March 2006, Under a team of highly qualified specialists, experienced caregivers and professional management team of EKACHAI MEDICAL CARE CO.,LTD. The hospital is located in the Southern part of Bangkok at 99/9, Moo 4 Ekachai Road, Tambol Kokkham, Amphur Muang, Samutsakorn, 74000 on the area of 10,000 square meters. Our hospital has 100 fully-equipped Inpatient Beds and 20 examination rooms which can provide services up to 1,000 out patients per day. The six-storied building of Ekachai Hospital was specially designed with a natural greenery environment of healing hospitality to offer our patients and visitors the comfort and peace of mind.
Our health care team is happy to help patients with concerns and questions about their stay, as well as planning resources for after-hospital recuperation. We are also dedicated to ensuring the safety, comfort and well being of our patients. Ekachai Hospital provide high standard of quality and excellence in every aspects of medical care and service for our patients.
Why Choose Us & Our Mission
Ekachai Hospital is one of the nation's premier centers of excellence in healthcare. In addition,  Ekachai Hospital offers ambulatory care services throughout Bangkok area and in the outer boroughs, bringing services directly to where our patients live and work.
Ekachai Hospital's mission is to provide the highest standard of medical care to our patients, and to continually improve the quality of medical care and services.
Imagine a medical center that brings together the services that you need in one convenient location. The Ekachai Hospital Medical Center was designed and built with a focus on providing a positive patient experience at the highest standard of medical care in serene and greenery environment.
One-stop registration
State-of-the-art facilities
New doctors offices and exam rooms
Multi-specialists under one roof
Easily accessible outpatient
Assistance from customer service representatives
Ample parking in the building's lot