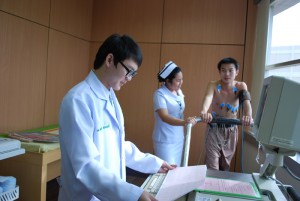 We all long for better living, quality of life and personal well-being. Our Check-up Center has been exclusively dedicated to providing patients with preventive care using the most advanced technologies and up-to-date scientific recommandations for prevention and early diagnosis. Extensive list of check-up choices are available, patients can select the health programs that best benefit them with the help of our experienced team of doctors and our modern medical technologies. Patients will indeed have accurate and expeditious service with our Check-Up Center.
We offer a wide-range of medical exams and medical testing all in one location, including:
Pelvic exam
Breast exam
STD testing
Prostate exam
Cholesterol test
Eye exam
Psychological testing
Female physical examination
Muscle testing
gyno exam
paternity test
male physical exam
DNA test
diabetes test
stress test
blood test
rectal exam
vaginal exam
depression test
HIV test
health assessment
early pregnancy test
genetic testing
allergy testing
We also offer specific programs geared towards various certifications, such as for:
Driver?s licenses
work permits and visa applications
health insurance
PADI courses
off-shore employee health screening
No matter which check-up program you choose, you can expect the following on your initial visit:
You will complete a questionnaire detailing lifestyle, medical history, and family history
One of our knowledgeable staff will help you choose the check-up program that best meets your needs
Your height, weight, and eyesight will be checked
Your blood will be taken and sent to the laboratory for tests
Any other necessary tests will be completed – a nurse will guide you through each step of the process
While waiting for your results, you may enjoy a complimentary snack from our coffee corner and relax with a complementary Thai massage
You will meet with your physician, and have the opportunity to ask questions or discuss concerns regarding your test results. These results will be given to you in English, and will be printed in an HPC booklet for your records and use on your next visit.
Important notes:
Do not consume any food or liquid (including water) 6-8 hours prior to your visit
Prices may change without prior notice
Urine test cannot be conducted for women during menstruation.