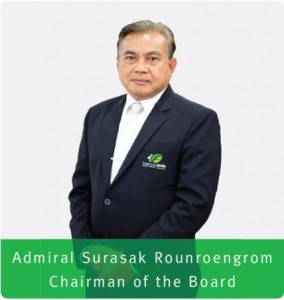 To Shareholders of Ekachai Medical Public Company Limited
From the year 2022 until present, the situation of the outbreak of the communicable disease covid-
19 around the world including Thailand has begun to subside make people's lives and the business operations of entrepreneurs in various fields start to return to normal which the business operations of Ekachai Hospital there are still operational guidelines to accommodate changes in various areas that may occur.
The hospital's core business operations continue to follow the strategic plans and policies. For the infertility Center by Ekachai International Co., Ltd., the strategic plan has been adjusted to accommodate the changes that have occurred. As a result, the operating results are in a better direction and Koon Hospital which is a specialized hospital for the elderly by Ekachai Nursing Home Co., Ltd., which opened in September, has been well received by customers. In addition, the company continues to operate with the fully efficient of staffs, highly reliable of medical service with experienced of expertise. These bring Ekachai Hospital to enhance the fame of hospital as a leader in healthcare services. Ekachai Medical Care focuses on the service which rely customer as the center, we serve them by the ethics and rights with a multidisciplinary
team. Ekachai Medical Care is an organization of happiness, safety, modernity and sustainable growth under the concept of Green Hospital and treats all stakeholders equally. Moreover, the company has submitted an intention to join the network of the Private Sector Collective Action Coalition against Corruption to gain confidence and trust to all stakeholders of the company and also Thai society as a whole.
Finally, on behalf of the board of directors, management, physicians, nurses, and staff, I would like to thank our shareholders, customers, and business partners for the confidence and trust. The company pledged that we will continue to do business based on corporate governance, to develop our capabilities, expertise, service, and sustainable development, as well as the hospital's determination of  "Healing Hands with Caring Hearts"
Yours sincerely

(Admiral Surasak Rounroengrom)
Chairman of the board
27 February 2023