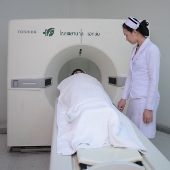 Our Neurology Center is one of Thailand?s brain surgery centers of highest standard, equipped with experienced doctors and nurses, as well as modern surgical instruments that allows us to provide our patient with a brain surgery with utmost safety.
In addition, the Neurology Center realizes the benefits of the ?Minimally Invasive Neurosurgery?, which is popular worldwide. In this connection, the center started offering this type of brain surgery in January 2003, complemented with all equipment needed such as neuro-navigator, microscope and endoscope.
Instruments and tools needed in Minimally Invasive Surgery
1. Navigator: Image Guided Surgery is a computed device that shows the operated area of the brain through a monitor, allowing surgeons to perform surgery with more precision and safety, regardless of the size or location of the operated area.
2. Endoscope is a small tube-like device with a lens at one end to provide lighting and better visualization in a deep area. As it requires a very small wound, the brain tissues are not much affected.
3. Calvitron Ultrasonic Surgical Aspiration (CUSA) is a device used in tissue removal, disintegrating it with sound wave before pumping out without affecting other parts of the brain.
4. Microsurgery is the surgery requiring an operating microscope, with lighting to provide clear visualization and magnified images, leading to better result than the surgery with naked eyes.
Treatments & Services
Alzheimer's Disease Coordinated Care
Diagnostic Technology
EEG (electroencephalography)
MRI
Dizziness and Balance Disorders Program
Headaches
Neuro Rehabilitation
Pain Management
Parkinson's Disease and Other Movement Disorders
Stroke Center
Advanced EEG Monitoring for Epilepsy
EMG (electromyography)
Spiral CT / 3D CT
Epilepsy
Neuro Ophthalmology
Neuromuscular Disease
Sports Concussion Management
Stroke Treatment
Support and follow-up
Facilities
The Neurology Center is involved in all aspect of neurological care including brain & spine surgery. Your comfort is a priority in our center, where you are greeted with a warm, welcoming smile. Thanks to our professional experience and know-how, we provide you with best services. Our facilities include:
Consultation rooms
EKG
X-Rays
Private examination rooms
CT scanner
Ultrasound rooms
Operating rooms
MRI scanner
Along with highly-advanced technological machines